About Form W-9
The W-9 Tax Form is one of the easiest reports to fill out. You've probably already heard about it, but let's delve into it in a little more detail and analyze all the essential information.
This form is meant to be prepared by freelance workers and other taxpaying residents of the U.S. in order to prtaxpayer ID and the corresponding certification.
According to the IRS website, you are considered a resident for federal tax purposes if you can relate to the following:
Individual citizen or foreigner who permanently resides in the country.
A legal entity such as a company, partnership or corporation established or started up in the U.S. or under its laws.
An inheritance fund (except foreign).
National trust fund.
The W-9 report is a basic doc for ICs or freelancers, including business-consultants, trade workers and those who hire them. The business asks the contractors to fill out the W-9 if their profit income exceeds $600. The data is meant to be used on a 1099 Information Return. Additionally, it helps financial institutions request a specific customer's information. Those who are self-employed use it to avoid backup withholding.
Keep in mind not to submit the W-9 to the IRS. Submit it only to the requester.
Did you know?
The Form W-9 can't be signed by a power of attorney unless it specifically states that the agent/lawyer has the right to certify tax documents or forms (with or without copies thereof), or if a form 2848 is provided. If you sign this template on behalf of the organization, you must confirm that you are authorized to sign.
What are the Components of a W-9 Form?
You can get the necessary blank template from your employers or download it for free. But in order to prepare the document correctly and without errors, we recommend using an online sample.
There should be no corrections. If you make a mistake when filling out the sample manually, you will need to start all over again, including the print process. However, this is a waste of time and paper. Electronic filing is more convenient. The W-9 sheet components contain appropriate lines for your answers. You can easily replace incorrect information in an editable document online at any time. Moreover, you can complete this web-based sample from any device and e-sign it in seconds.
Our step-by-step free instructions will help you to fill out the blank W-9 Form faster than ever before.
BOX 1
Enter your full name the same as it's presented on your personal income tax return or the corporate name.
Keep in mind, if you change your name you must inform the SSA. If you don't report it, you must first enter the name as it appears on your social insurance and then type in the new one. This field must be filled in and not left blank.

BOX 2
If you have specified the name of the juridical body in the first line, you do not need to repeat it again. Fill it in only if your business and legal name are different. You can also leave this field empty if you are working on your own behalf as a sole contractor but not on behalf of the company or partnership.

BOX 3
Only one variant should be chosen in this column. If you act and work as a private person, tick the checkmark next to the individual/sole proprietor. If not, choose another appropriate federal tax category. If your company is an LLC, mark the box and indicate the letter C, S or P in the appropriate field. In case you have the Other type, see the instructions.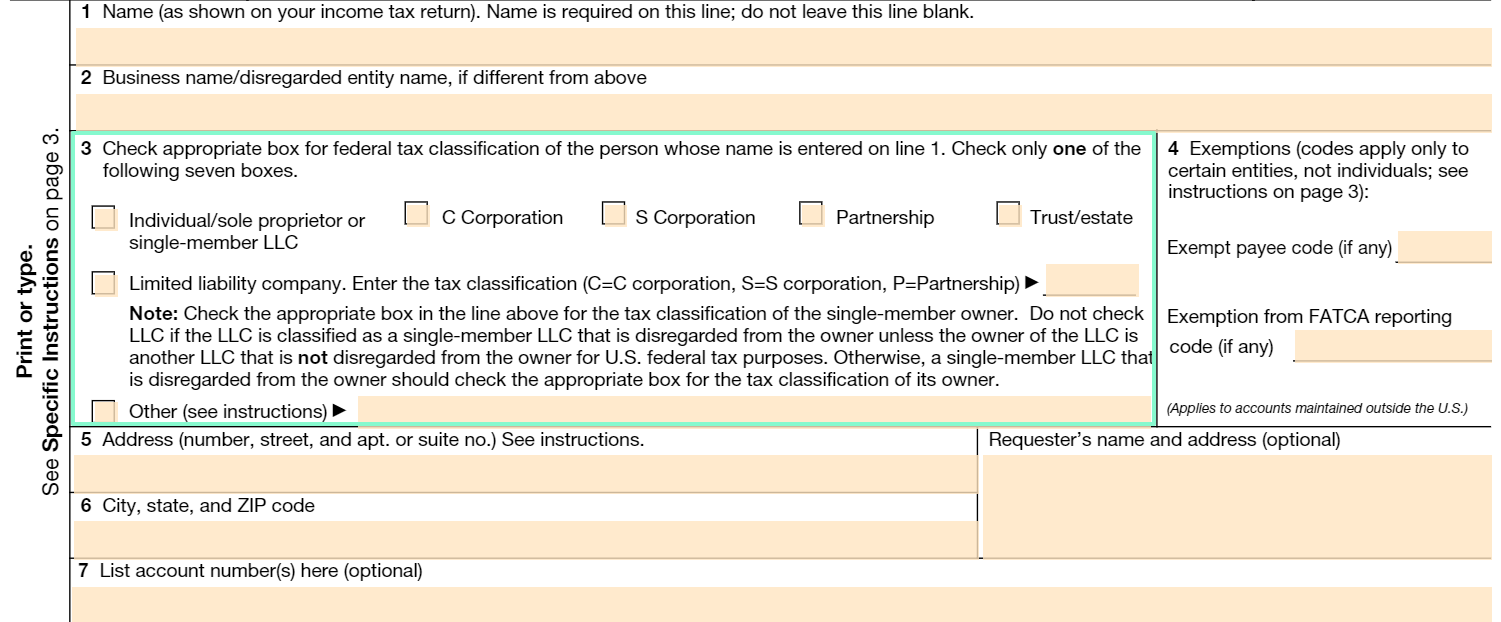 BOX 4
Prthe exempted beneficiary code and the FATCA exemption code in the appropriate fields. This box is not the obligatory one, but fill out if applicable. Usually, private contractors have no exemptions of additional retention. However, corporations could be exempt. If you have any questions, seek independent tax advice.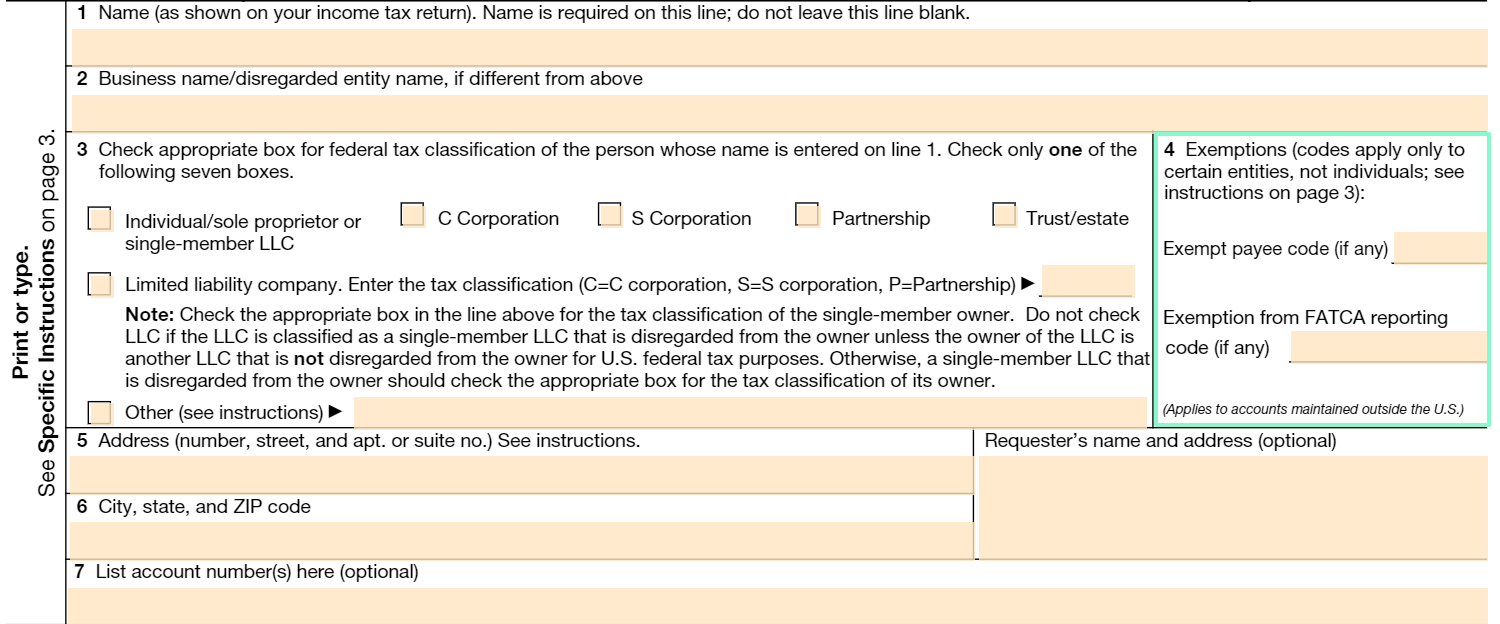 BOX 5
Start to enter your address. For example, 1255 Princeton Ave, apt 93.
If your legal address does not match your place of residential real estate, use the one you put on your tax return.

BOX 6
Continue the address with the city, state and ZIP code as in the example: New York, NY 11256.

BOX 7
It is not an obligatory field. Remember that the IRS Form W-9 will only apply to the mentioned account, and you will need to pranother record for your other accounts.
PART I (TIN)
The fillable W-9 is for people who must file an information declaration to obtain the TIN of the recipient of payments (or another person) to avoid backup withholding. A Social Security Number (SSN) acts as a TIN for sole individuals.
For foreign residents, if you do not have an SSN or are not entitled to one, you must enter an ITIN (Individual Taxpayer Identification Number) or an Employer Identification Number in this field — for legal entities, this is the Employer Identification Number (EIN).
Note: A valid U.S. Taxpayer Identification Number (TIN) always will consist of nine digits.
A TIN should not be used as a taxpayer identification number if it:
Contains anything other than numbers.
Contains more or less than 9 digits.
Comprises 9 identical digits.
Consists of 9 consecutive numerals (in ascending or descending order).
If you do not have a TIN and you intend to apply for one or have already applied for one, please enter "Applied for" in the field. You will have 60 days to pryour TIN numbers to the Bank.

PART II
The purpose of the last fillable box is for the certification of the document.
Please sign these papers and enter the date. If you sign the W-9 tax form on behalf of a legal entity, you must confirm that you are authorized to set the signature.
You can sign electronically. The online PDF editor allows you to create your customized legally binding eSignature.
Pay attention to the certification instructions on the page.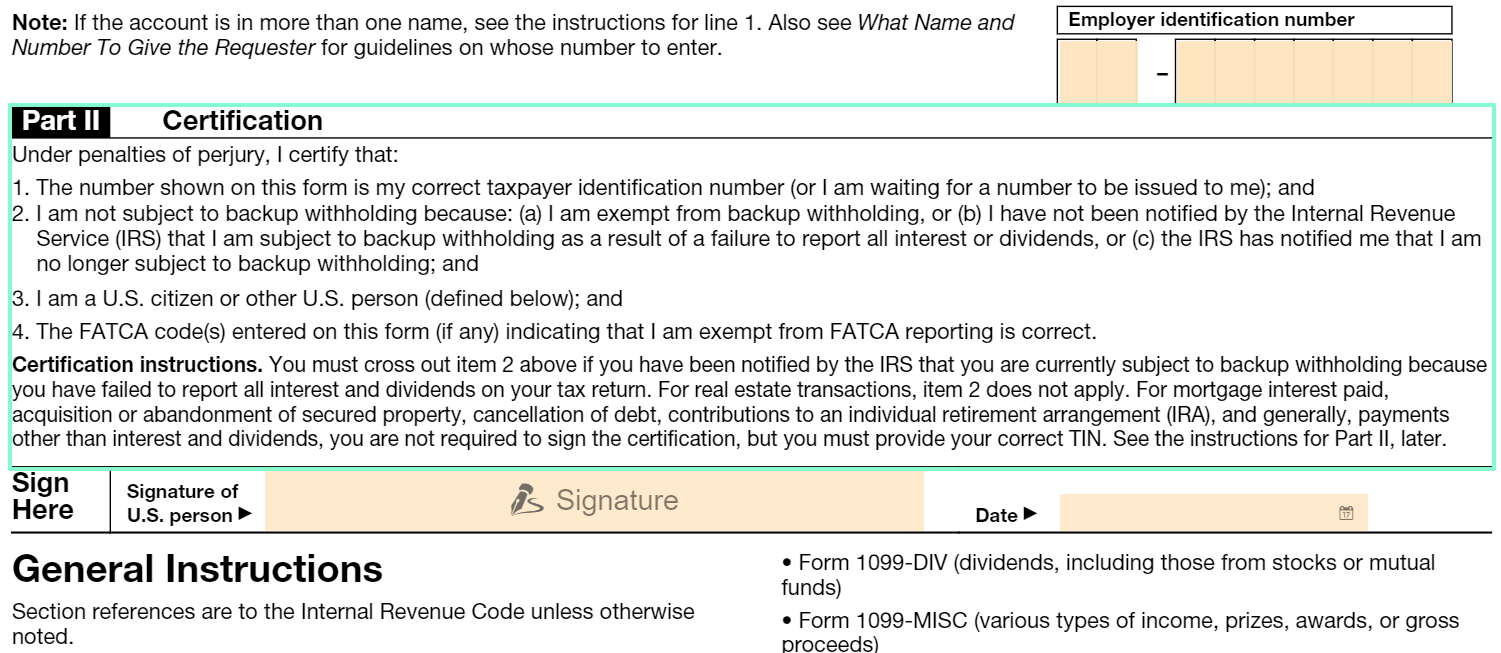 Conclusion
The W-9 tax forms were created by the federal government and are used by company entities you work with to receive information about your tax status. Once completed, the form will be sent directly to the company you cooperate with, not to the IRS. According to tax classification, you can be the subject to backup withholdings if you didn't respond to the request for taxpayer identification.
Businesses need this information to know which tax to deduct from your payments (if necessary) and to submit the appropriate tax forms to the tax authorities on your behalf.
In compliance with the definition of Revenue Service, an independent contractor is a person, corporation or business to present the work when only the result is under control, not all the actions and the process.
For your convenience, you can use the free online sample. An advanced PDFfiller editor offers a set of powerful tools to quickly complete the fillable W-9 form from any device. Moreover, this electronic sample is more secure than filling out a paper one. So your confidential information is protected and stays safe. The preparing and signing process takes minutes and afterward you can email, print or download the file to use in the future.
A payer who cooperates with freelancers will have to submit a Form 1099-MISC at year-end and the W-9 will prthe name, address, and TIN of the contractor. Many recipients send this form to payers each year to give them current evidence about the individuals and businesses they deal with.
Online alternatives allow you to organize your doc management and enhance the efficiency of your respective workflow. Abide by the fast information to be able to finished IRS W-9 Form, refrain from errors and furnish it inside a well timed way:
How to complete a blank w 9 2019 printable?
On the website while using the variety, click Begin Now and go with the editor.
Use the clues to complete the relevant fields.
Include your own information and phone data.
Make confident which you enter right info and figures in best suited fields.
Carefully take a look at the subject matter in the type as well as grammar and spelling.
Refer to assist area in case you have any queries or deal with our Guidance workforce.
Put an electronic signature on the IRS W-9 Form when using the guidance of Sign Tool.
Once the form is concluded, press Executed.
Distribute the all set type by way of electronic mail or fax, print it out or help you save with your device.
PDF editor will allow you to make alterations to your IRS W-9 Form from any internet linked system, customize it based on your needs, indicator it electronically and distribute in several methods.
Decrease the possibility of mistakes preparing forms digitally
Common Mistakes
Mistaken Social Security Numbers
Several submitting statuses
Neglecting to sign your return
Benefit from
Easy-to-use interface
Just click to begin filling the IRS W-9 Form and complete it in seconds without the need of using on extra skills.
Sophisticated editor
Change the original file and put multimedia objects like images and remarks, and so on.
Trackable files
Find more ideas from the comprehensive history of your document, including details about what steps and during what period a particular customer performed.
Operated by cloud
Pull and import your information to your cloud storage, for example Google Drive, OneDrive, Dropbox in seconds with built-in integration.
People also search for W-9 Form
blank w 9 printable form
current form w 9 printable
w9 form de 2022 - FAQ
Do influencers usually complete W-9 forms? Also, do brands usually send/email contracts for influencers to sign? How do brands expense influencer marketing expenses?
Influencers in the US need W9 Forms once they reach the minimum earning threshold of $600 (set by the IRS in 2016.) The "Request for Taxpayer Identification Number and Certification", or W-9 form required by the IRS, can become a struggle for brands trying to manage larger campaigns. That's why we decided to integrate the form directly into the payment platform at Influence (the influencer software I helped co-found.) Here's what it looks like:User friendly, brands easily keep track of expenses and make secure payments: Influence software comes with an integrated payment platform adapted to influencer marketing. After campaign completion, brands may pay by PayPal or bank transfer with auto-generated invoices that can be specified to 'Company, Individual, or Other'. For US influencersan a integrated W9 form can be downloaded, filled out, and attached. Part 2: Do brands usually send/email contracts for influencers to sign?2. Influencer contracts are used less and less but are imperative for certain campaign types, such as events. If a campaign is paid, usually a simple collaboration quote will be agreed upon by the brand or agency. These quotes briefly outline the date and details of publication (dedicated hashtags, sharing instructions, etc) as well as the price per post. Practically public, quotes like these are used to solicit influencer participation and often don't require signature Thoughgh if the campaign features an event, it is strongly advised to create a specific contract. Due to the fact that it is difficult to replace an influencer at the last minute, this serves as a guarantee that the campaign won't be jeopardized by no-show Whatat does a professional Influencer contract look like? Examples here. To conclude, it is advised to use contracts when the partnership circumstances require it: either for brand safety (confidential information) or to confirm the presence of an Influencer at an event. It's important to keep in mind though that imposing too many restrictions on creativity can be counterproductive and ultimately degrade campaign performance. Answer based on my experience with Upfluence. (You can try out our influencer search engine for free here.) Hope this helps!Vivien
Why does our customer need us to pra W-9 form?
Why is my customer asking for Form W-9?An entity ("the payer") that makes payments in the normal course of their business is required to report certain specific payments to both the IRS and to the person or entity paid ("the vendor") at the end of each year. This is typically done using Form 1099. The IRS calls this "Information Reporting" and the process is similar to the way that employers report wages on Form W-2.Therefore, when the payment for a product or service is required to be reported on Form 1099, the payer must have the vendor's taxpayer identification number (TIN). The TIN is the way the IRS identifies the vendor in their records. The TIN is typically a social security number (SSN) or an employer identification number (EIN).When the IRS receives the payment information on Form 1099 they compare that information to the income the vendor reported on their income tax return. If the vendor's tax return does not include all the payments reported on Form 1099 then the IRS will likely take steps to determine why all income earned was not reported.Consequence of not submitting a W-9If the payer does not receive a TIN number from the vendor, the payer will not be able to specifically identify the vendor on Form 1099. The IRS will then require the payer to reduce their payment to the vendor by 24% and remit this amount to the IRS (See our blog on backup withholding).The IRS will hold the payer responsible for this 24% if they don't obtain the TIN number or withhold 24%. Additional penalties and interest could also be assessed on top of the 24%. Therefore, most payers put procedures in place to obtain the vendor's TIN number in advance of making any payment. Requesting Form W-9 to be completed is the standard process that the IRS has created for payers to obtain the TIN number.CONCLUSION: Vendors are not required to submit a Form W-9, however, the likely result would be a 24% reduction in the payment to them by their customer.Examples of Information ReturnsExamples of information returns that use information from Form W-9 include, but are not limited to, the following:• Form 1099-INT (interest earned or paid)• Form 1099-DIV (dividends, including those from stocks or mutual funds)• Form 1099-MISC (various types of income, prizes, awards, or gross proceeds)• Form 1099-B (stock or mutual fund sales and certain other transactions by brokers)• Form 1099-S (proceeds from real estate transactions)• Form 1099-K (merchant card and third-party network transaction)• Form 1098 (home mortgage interest), 1098-E (student loan interest), 1098-T (tuition)• Form 1099-C (canceled debt)• Form 1099-A (acquisition or abandonment of secured property)Use Form W-9 only if you are a U.S. person (including a resident alien), to pryour correct TIN.For more information on Form W-9 visit our blog at https://www.w9manager.com.
My wife is working for a new company that wants to issue her a 1099 for contract work. Should I have them pay our LLC (which is an S-Corp) instead of through a W-9?
Before we start, I'd like to clarify something.  A W-9 form is a Request for Taxpayer information and serves as the basis for the 1099 form that will be issued at the end of the calendar year.  Most companies will not issue any checks without first having this information in their hands.  Your wife will have to fill out one, no matter what (assuming she wants to be paid).Now, on to you question.  For your wife, there are two compensation options for a non-employee (i.e. independent contractor):They can make the checks payable to her personallyThey can make the checks payable to your S CorpI would advise that you have the checks made payable to the S Corp.  The primary reason is that, to a certain extent, you will avoid self employment taxes, namely FICA (6.2%) and Medicare (1.45%).Had your wife been an employee of the company, these 'payroll taxes' would be paid by the employer.  They represent a 'matching amount' that employer pays, based upon how much is deducted from an employees' gross pay for these taxes.However, when you are self-employed, rather than the employer paying these taxes, you pay this matching portion.The tax advantage of an S Corp is that the earnings of this type of entity is not subject self employment taxes, whereas, if the check is payable directly to your wife, they are.This is outside the scope of your question, but related.  The IRS is determined to get 'some' payroll taxes from your S Corp.  You must pay all shareholders who participate in the operations a reasonable salary.  In doing so, your S Corp will be required to pay the FICA and Medicare taxes for anyone on payroll.  Many S Corp owners mistakenly believe they can simply pay themselves no official salary, thereby escaping the payroll taxes.  Further reading:S Corporation SE Avoidance Still A Solid StrategyS Corporation Taxes, Self Employment Tax Savings
If I'm 17 and making $90k, what happens if I don't pay my taxes?
First of all, congratulations on your early success in life. There are many good answers here, and I will try not to repeat Amy of them knowingly. Here are some of the things to consider:1. Tax Law: By law, you must report all your income and pay taxes on your income. If you don't, you will likely pay penalties and, if you still don't pay, you could go to jail. There are no exceptions to that. So my advice is to file tax returns and pay your taxes before it is too late. 2. Loopholes: Just because you must pay taxes, it doesn't mean you are not entitled to take advantage of  legal loopholes in the tax laws to pay the least amount of tax. For example, you can deduct any expenses related to your business from the gross income to calculate taxable income. Did you buy a computer? A printer? A cell phone for business use? All these should be deductible. Besides these deductions, there are exemptions that could reduce your taxable income a little more. You should talk to a tax attorney or an accountant who deals in business taxes. They could help you structure your business in a way that would minimize your taxes. 3. Tax Rates: You are right about the tax rates, but depending on the State you live in, you might have state income taxes too.4. Reporting: If you are being paid as an independent contractor, your clients should be giving you a 1099 form reporting that payment to the IRS. That means the big brother (IRS) already knows you are being paid that amount and, if you don't pay taxes, will likely come after you.5. IRAs and 401k: Since you are starting to make good money at such a young age, you are probably going to continue to earn enough through college that you will not need to depend on all of your current income. You can put some of your earnings away in retirement accounts such as SEP IRA or 401k. That would reduce your taxable income thereby reducing your income taxes.6. 529: You should consider putting some of your earnings into college saving accounts (529). While this would not reduce your current taxes, these accounts can grow tax-free if used to pay for college.7. Unreported Income: It is possible that some or all of your vendors are not reporting the payments on a 1099 form. In that case, the IRS depends on you to still report all of your income. Some people likely don't report all of their income in such cases. You will be taking a risk of being audited resulting in penalties. 8. Fairness: Many people believe you should pay your "fair share".How much is fair is of course determined by them or their representatives. Your job is to work hard, pay your "fair share" so that they can get free college, free healthcare, etc. Is that fair? But they have the power, so you better obey. I wish you success in your life. Hopefully one day you will become a one per center!
What is the purpose of the W9 tax form?
The W-9 form gives a payer information to know whether and how to report the payment to a US person to the IRS. You will often be required to fill one out before a payment can be issued.
I just joined a startup after being told that it is stable and find that salaries are not being paid timely for quite some time. What do I do?
I can speak from firsthand experience with this. First, I would demand the salary owed that they promised to pay and if not paid, I would quit — immediately. No arguments, no acrimony. Just leave. I would also refuse to turn over any code you wrote that you hopefully have stashed in a private GitHub or Gitlab or Bitbucket repo branch of the company's project (assuming this is a tech startup) until you were paid in full the wages you're owed. The startup people that stiffed you aren't going to make good until they're forced to. In the meantime, you can't keep utilities on, a roof over your head, and food on the table on nothing but words of smoke. Grocery stores, landlords and utility companies don't accept karma points as payment in lieu of money. Second, if they had you fill out an I-9 form instead of a W-2, I would then file a Misclassification of Employee form with the IRS. It may take them some time to make a determination on whether you were hired as an independent contractor when you should have been hired as a W-2 employee instead. What usually determines this is the degree and level of control you had over how the work was to be done. Third, after you finally hear back from the IRS, you then file a complaint for wage theft with the Labor Board. If that startup tries to file bankruptcy, any assets or money they have will have to go to pay unpaid employees before anyone else. It is also worthy to keep in mind that startups that stiff their workers — whether those workers are hired as 1099 independent contractors, or as W-2 employees — scare away current and potential future investors. But don't wait for the IRS and Labor Board to resolve your claim — this could take many months. Move on and try to get paid work elsewhere while the wheels of justice slowly inch along.
Do I need to obtain a W-9 from an international (non-US) based company if I am making over $600 in payments to them over the course of a year?
No you do not….and they will probably laugh at you like they laughed at me because W-9s and such documentation reflect U.S. employment and tax laws, and the foreign company you are working for is unlikely to feel compelled to be bound to U.S. laws and its documentation requirements. As it is relevant to this discussion I will mention that I have had foreign earned income for 20 of the past 24 years, none of which was documented with a W-9, or anything else U.S. tax-like from the foreign employer for that matter. You may have to declare you made the income depending on your citizenship and U.S. Residence status. However, here is the complication: A tax preparer who cannot verify your sources of income may not accept your personal declaration of income. In essence, you might have to prove you made this money through honest foreign employment. Why would someone "fake" that they made foreign money? Lots and lots of reasons, but that's not your question (smile). If you cannot prove you made the money lawfully, and you cannot convince your tax accountant of this, you might not be able to get your income included in your tax return. What's the problem? Try making $250,000 a year, take all the IRS foreign income credit exclusions ($175,000 worth) and then have a U.S. bank say you can't qualify for a U.S. mortgage because your tax returns do not show sufficient income. Gasp!FYI — after 7 years of being an expat with significant foreign earned income and no U.S. accountant willing to do my returns for a reasonable price (under $3K), I decided to learn all the regulations myself. It's been enormously helpful since I did (where helpful means, paying federal taxes in the single digits because of the massive number of allowances) and the options for structuring one's foreign compensation such that many of the added costs are treated as tax-free. Good luck.Peter, a 20+ years, 59 country former expats.
Can an employer charge for a corrected W-2 if the SSN was accidentally written down incorrectly in the W-4?
The concept of "charging" for a corrected (or original) W-2 form sounds odd to me, but let me break your question down into smaller parts, and maybe I can still be helpful.First, you think you filled out your W-4 form incorrectly, possibly by putting the wrong SSN on it? Well, your SSN doesn't go on your W-4 form, it goes on a W-9 form. All a W-9 does is establish your identity and right to work (citizenship or visa/green card). Employers use the W-9 to spell your name correctly on your paychecks and glean your SSN off of it to put on your W-2 at the end of the year. A W-4 form, although lacking the SSN, allows you to claim withholding exemptions that your employer uses to calculate how much income tax to take out of your paycheck on your behalf and send to the IRS. Now, if you didn't know what you were doing when you filled out your W-4 and you claimed a high number, you would have had very little tax withheld and your paychecks would've been close to their gross amount. If you claimed a low number, then a lot of taxes would've been withheld and your paychecks would've been smalle Claimim low and you'll usually get a tax return. Claim hi, andnd you probably will owe taxes at the end of the year. But your employer doesn't "charge" you anything. That's the IRS taking their cut of your income. And if it was done wrong, then you most likely filled out your forms incorrectly. Talk to a licensed tax preparer or CPA to get good advice about how to fill those out, ok? Happy tax season!
How do W9 and W2 forms differ?
Aside from both starting with W, they are completely different. The IRS has a serious lack of imagination when numbering forms. W-9 is the for a contractor gives to the company paying them. It just has their name, address, and tax ID so the has the information for the accounts payable department to send them a 1099 at the end of the year (usually a 1099-MISC). W-2 is the form an employee receives from their employer at the end of the year with the employees total earnings, withholding, and other tax information the employe needs to do their personal tax return. The W-9 a contractor fills out is more similar to a W-4 that an employee fills out with their name, address, SSN, etc. The W-2 the employee receives at the end of the year is more similar to the 1099 a contractor receives showing the total amount they were paid for the year.