What are the Components of a W-9 Form?
You can get the necessary blank template from your employers or download it for free. But in order to prepare the document correctly and without errors, we recommend using an online sample.
There should be no corrections. If you make a mistake when filling out the sample manually, you will need to start all over again, including the print process. However, this is a waste of time and paper. Electronic filing is more convenient. The W-9 sheet components contain appropriate lines for your answers. You can easily replace incorrect information in an editable document online at any time. Moreover, you can complete this web-based sample from any device and e-sign it in seconds.
Our step-by-step free instructions will help you to fill out the blank W-9 Form faster than ever before.
BOX 1
Enter your full name the same as it's presented on your personal income tax return or the corporate name.
Keep in mind, if you change your name you must inform the SSA. If you don't report it, you must first enter the name as it appears on your social insurance and then type in the new one. This field must be filled in and not left blank.

BOX 2
If you have specified the name of the juridical body in the first line, you do not need to repeat it again. Fill it in only if your business and legal name are different. You can also leave this field empty if you are working on your own behalf as a sole contractor but not on behalf of the company or partnership.

BOX 3
Only one variant should be chosen in this column. If you act and work as a private person, tick the checkmark next to the individual/sole proprietor. If not, choose another appropriate federal tax category. If your company is an LLC, mark the box and indicate the letter C, S or P in the appropriate field. In case you have the Other type, see the instructions.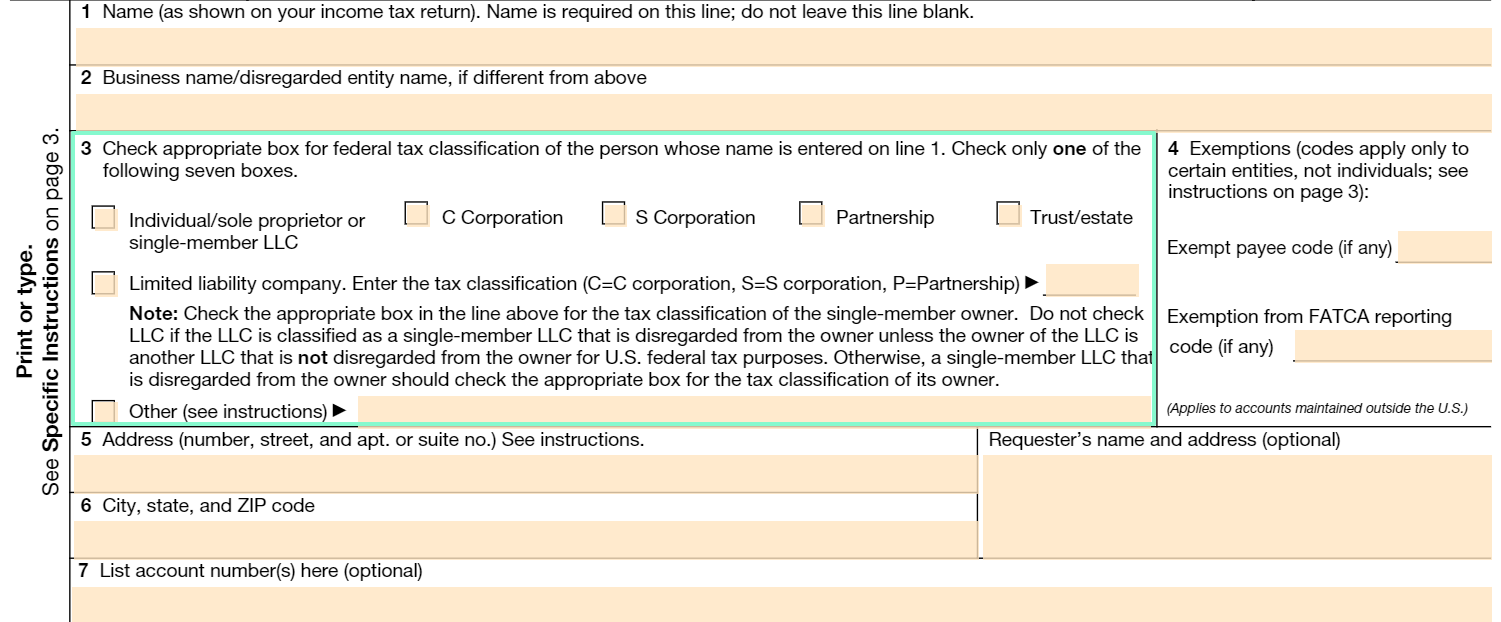 BOX 4
Prthe exempted beneficiary code and the FATCA exemption code in the appropriate fields. This box is not the obligatory one, but fill out if applicable. Usually, private contractors have no exemptions of additional retention. However, corporations could be exempt. If you have any questions, seek independent tax advice.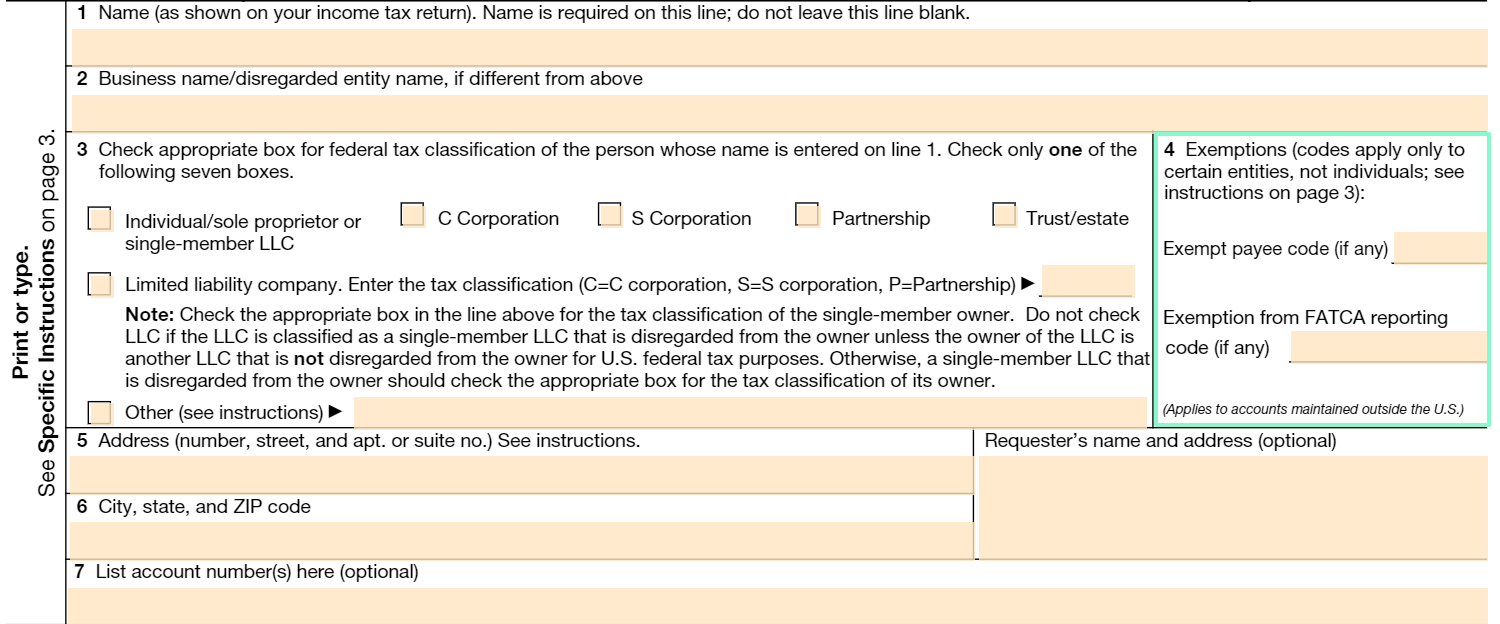 BOX 5
Start to enter your address. For example, 1255 Princeton Ave, apt 93.
If your legal address does not match your place of residential real estate, use the one you put on your tax return.

BOX 6
Continue the address with the city, state and ZIP code as in the example: New York, NY 11256.

BOX 7
It is not an obligatory field. Remember that the IRS Form W-9 will only apply to the mentioned account, and you will need to pranother record for your other accounts.
PART I (TIN)
The fillable W-9 is for people who must file an information declaration to obtain the TIN of the recipient of payments (or another person) to avoid backup withholding. A Social Security Number (SSN) acts as a TIN for sole individuals.
For foreign residents, if you do not have an SSN or are not entitled to one, you must enter an ITIN (Individual Taxpayer Identification Number) or an Employer Identification Number in this field — for legal entities, this is the Employer Identification Number (EIN).
Note: A valid U.S. Taxpayer Identification Number (TIN) always will consist of nine digits.
A TIN should not be used as a taxpayer identification number if it:
Contains anything other than numbers.
Contains more or less than 9 digits.
Comprises 9 identical digits.
Consists of 9 consecutive numerals (in ascending or descending order).
If you do not have a TIN and you intend to apply for one or have already applied for one, please enter "Applied for" in the field. You will have 60 da